HOFFMAN REALTY
Tampa Property Management Company Serving Western Hillsborough, Eastern Pinellas and Southern Pasco County
Tampa Property Management Is Our Specialty
Professional Tampa property management should be about making your life and investments run smoother. That's where Hoffman Realty comes in. We manage single family homes, townhouses, condos, and multi-family buildings for owners and investors who require the best in service and expertise.
Work with Hoffman Realty, the most trusted Tampa property manager in Southern Pasco County and the Tampa Bay area. Our Tampa property managers have helped thousands of owners and investors over the last 30+ years. We're experts in Tampa Bay rental properties, and our team is focused on delivering results.
Need a Tampa property management expert in the Tampa Bay area?
Give us a call. Not all property management in Tampa is the same. Learn why we've been the Tampa property manager that local owners have trusted for 30 years.
Ready for a Tampa Property Manager who Will Protect You and Your Investment?
When looking for property managers in Tampa, hire a company with many years of experience and expertise – and one that pays attention to detail. Before hiring a Tampa property management company, you should first ask what specific things are in place to protect you and your investment.
At Hoffman Realty, we preserve the value of your property by reducing risks and avoiding surprises. We take care to keep you legally compliant and protected from risks, thereby keeping you out of court. We improve your cash flow by paying attention to both your top and bottom lines, keeping costs in check and maintaining your rental revenue. When you work with us, you can trust your Tampa property manager to take care of the details while keeping an eye on the bigger picture of your investment goals.
All Property Rental Investors Benefit from Our Tampa Area Property Management Services
TIMELY PROPERTY MAINTENANCE
Annual Property Review / Safety Inspection
24×7 response to prevent further damage
Contractors that provide quality work for a fair price
COMPREHENSIVE RENTER MANAGEMENT
11-Step Background Screening Process
All maintenance requests documented
Renters Handbook and Orientation Meeting to set expectations
LEGAL COMPLIANCE & RISK MANAGEMENT
Insurance review
Tenant safety checklist
Lead-based paint disclosure
Fair housing act compliance
Insured vendors
Protection against malicious damage
Protection against loss of rent
Protection against eviction costs
What We Do to Protect Owners Like You
Our team believes that it is our responsibility to minimize your risk of owning investment property, while guaranteeing your satisfaction. Review our guarantees below to see how we stand out from other Tampa property management companies.
EVICTION PROTECTION GUARANTEE
What People Are Saying About Us
Annual Safety Inspections
Regular property inspections for properties in Eastern Pinellas County and elsewhere in the Tampa area, allow us to check that all is well and proactively address any issues. We are the only company in Tampa Bay that performs annual safety inspections. It's just one of the reasons we're considered the best in Florida property management.
Here is how we inspect your property:
We perform a video taped move-in inspection at the start of a tenancy. Around 90 days after the start of the tenancy, we perform an occupied inspection to check for issues like:
✓ Unsanitary conditions
✓ Excessive wear and tear
✓ Unauthorized occupants
✓ Unauthorized pets
We take photos to document. If there are issues, we schedule subsequent follow-up inspections. Assuming all is OK, the next interior inspection is an Annual Property Review in 6 months, or 90 days prior to the end of the lease.
The Annual Property Review (APR) is a written report with photos performed by a licensed home inspection company. The APR goes beyond tenant lease compliance to inspect the major systems in the property (such as roof, plumbing, electric, heating and cooling, appliances, etc.). This is an important report for our landlords. Owning an investment property is like owning a car – if you don't maintain it properly, it will let you down. The licensed home inspector also performs our comprehensive safety inspection at the same time. We want your tenants to be safe in your property, and it benefits you as the landlord because it lowers your potential liability to personal injury claims.
At move-out, we perform another video taped move-out inspection. We bring this back to our office to compare it with the move-in so we can make informed decisions about tenant damages and cleaning responsibility.
How Much Rent Can You Get for Your Tampa Investment Property?
Pricing your Tampa Bay area rental property correctly is an important step in earning as much ROI as you can. If you price it competitively, you'll attract the most qualified tenants, and you'll rent it quickly. That saves you money on vacancy costs and potential damage that the wrong tenant can do.
At Hoffman Realty, our Tampa property managers understand the local market and competition. Each neighborhood and community in Tampa Bay has its own price range and tenant pool. We'll put together a comprehensive analysis that targets the right price for your home based on its location, size, and condition.
Fill out the form to the right to receive your Free Rental Analysis, and get started with the best in Tampa property management.
Ready for a Tampa Property Manager to Improve Your Cash Flow?
Hoffman Realty, Tampa property management expert, improves investors' ROI on their rental properties.
WE KEEP MAINTENANCE COSTS DOWN
Tiered maintenance approach
Reputable vendors
Maintenance vendor discounts
No maintenance mark-ups
WE SAY GOODBYE TO VACANCIES
Aggressive marketing and fast renter placement with our Tenant and Realtor Marketing Programs
11-Step Background Screening Process
Tenant Retention Program to avoid vacancies and minimize turnover
WE KEEP RENTAL REVENUE COMING
Renter's Portal and online rent collection
Direct deposit to your account
Successful late rent collection process
Market knowledge about rent increase opportunities
Your Hoffman property manager will use 4 behavioral questions to dig deeper into an applicant's situation to identify any red flags early on the could suggest future issues with the renter.
Download a copy of our 11-Step Background Screening Process today.
Do You Want a Tampa Property Manager Who Will Rent Your Property Quickly? 
Hoffman Realty uses two programs to get your home rented quickly to quality tenants, thereby shortening vacancies and saving you money.

Our Tenant Marketing Program
The goal of Tenant Marketing is to find you "the best tenant in town". They are the ones who pay rent on time, care for your property, and therefore give you the best return on your investment. To find these tenants, you have to interview them before other Tampa property managers. You want these tenants to see your property as quickly as possible, in order to minimize your vacancy time, and increase your cash-flow. This is how we do it:
Your property will be advertised on 50+ websites. This includes the site used by the MacDill AFB Housing Office, so we can reach relocating military service members. You want your property to be everywhere a potential tenant might look, so they will know it is available to rent.
Read more
When a potential tenant finds your property online, you want it to have good photographs, informative copy, and an HD video walkthrough tour. Good content is important because you want your potential tenant to pursue seeing your property in person.
If there is interest in your property, the potential tenant is going to reach-out either by telephone, email, or social media. This is the critical phase where most tenant leads are lost because most landlords and Tampa property managers do not have the resources to respond in a timely manner.
Read more
Most important are the telephone calls because these are the "hot" leads, and most potential tenants will not want to leave a voicemail on a telephone system.
Hoffman Realty "live answers" telephone leads on your rental property 7 days a week, 9 AM to 8 PM Monday thru Friday, and 9 AM to 5 PM Saturday thru Sunday. We also have an Agent-on-Call 7 days a week to respond to email and social media messages. This costs money, but it is money well spent as it produces results.
It should be convenient for potential tenants to schedule showings of your property. With Hoffman Realty, they can schedule appointments online or on our website, as well as by telephone and email.

Read more
Our Tampa property managers show properties 7 days a week. If you make it convenient to schedule a showing and tour your property, you will find quality renters faster, have shorter vacancies and improved cash-flow.
Give us a call to learn more ways that our Tampa property managers are the best in Tampa property management.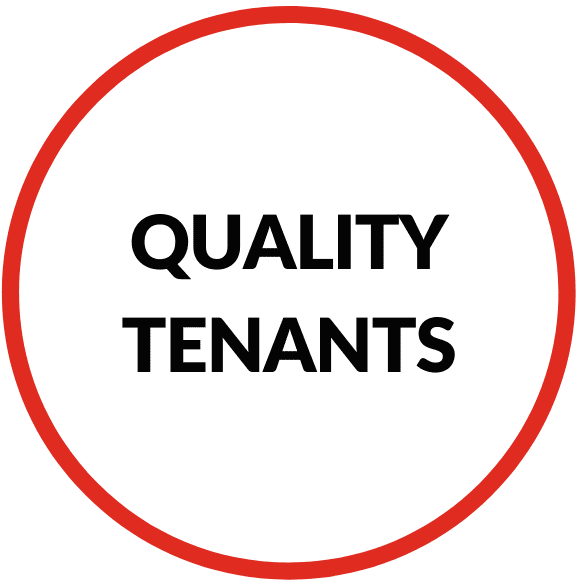 Schedule Appointments Online, by Phone or Email
Our Realtor Marketing Program
When you work with Hoffman Realty, your Tampa property manager will utilize our Realtor Marketing Program.
The Realtor Marketing Program is about engaging other real estate companies and their agents to help you rent your property. As there are thousands of realtors in town this really multiplies your efforts to find a good tenant.
Hoffman Realty allows other real estate companies to advertise your property directly on their website. In fact, we enable an automatic feed so it is easy for them to download and display your property on their company website. The more exposure – the better for you.
We have a comprehensive listing in the MLS so realtors know all about your rental property and what qualifications we are looking for in your next tenant. We have a call center just for realtors that allows them to easily schedule showings of your property 7 days a week.
We offer a competitive commission to the agent that brings you a good tenant. This is so important. The amount of commission offered is directly proportional to how motivated an agent will be to show their customers your property. How frequently your property is shown to good, qualified rental prospects, is related to how quickly your property will rent. The faster your property rents, the more money you keep.